THE competitor inside Jonathan Brown wanted to play on but the medical team told him enough was enough.
Brown called a halt to his glittering 15-year career with the Brisbane Lions on Monday but only after he got the final tap from club doctors.
The 32-year-old said his body had actually started feeling good in the past month but after another concussion against Greater Western Sydney on June 14, he had bigger things to consider.
Brown spoke to both of the Lions' club doctors and they essentially made the decision for the three-time premiership player.
Copping another hit could have serious implications.
Although Brown did not want to "dramatise" the advice, he said having quality time with his wife Kylie and two – soon to be three – children was important to him.
"It was a wake-up call last Saturday night, that's for sure," Brown told a packed media conference at the Gabba.
"The competitor inside me was saying I had some football left.
"(But) strong medical advice was that it wasn't worth the risk of playing and potentially getting another head knock.
"At the end of the day there was a risk they (doctors) certainly didn't want me to take and eventually I got my head around it and it wasn't a risk I was willing to take either."
Brown informed coach Justin Leppitsch of his decision on Sunday night and then his teammates on Monday morning.
Both Leppitsch and football director Leigh Matthews said they were relieved.
"Those of us who care about 'Browny' are pleased this decision has been made," Matthews said.
Jonathan Brown with wife Kylie, Olivia and Jack after announcing his retirement. Picture: Getty Images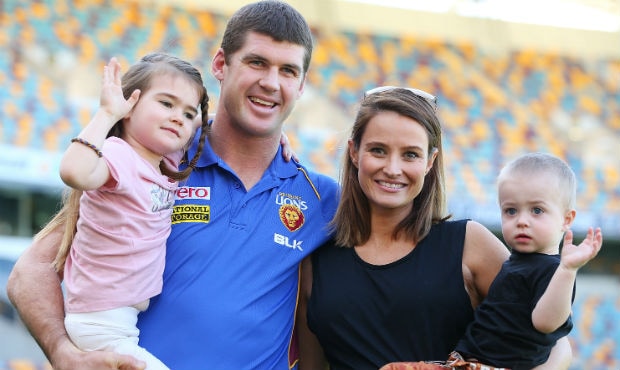 Brown said the last week had been a rollercoaster of emotions after his hit against the Giants.
Brown, a three-time premiership winner over 256 games, said his 15th season in the AFL was likely to have been his last anyway.
He said finishing mid-season went "against the grain" of who he was but he was now content with the decision.
"Unfortunately though, the last week or so, it's become evident after my concussion last week that I don't respond or bounce back like I used to from those hits," he said.
"It's been a hard pill to swallow, even though deep down inside I knew that was the right answer."
"I spent first four or five days of the week trying to wriggle my way out of it but as it got towards the end of the week, I failed another concussion test.
"It wasn't worth the risk of going out there and copping another head knock and jeopardising my future with my wife and kids."
The Lions will pay tribute to Brown at half-time of Saturday's home match against North Melbourne.