COLEMAN Medal leader Jeremy Cameron has no issue with critics who raise his lack of defensive pressure.
In fact, he believes it's warranted.
He's heard the knockers before and is more interested in helping the Giants get back to winning games, rather than focusing on his own numbers.
That's a bag of five for Jeremy Cameron!#AFLGiantsTigers pic.twitter.com/FpDC6dPdgA

— AFL (@AFL) April 6, 2019
Cameron has kicked 48 goals this season at an average of three per game, and when he's in form and winning the footy all over the ground he's arguably Greater Western Sydney's most important player.
But the Giants' seven-time leading goalkicker has never had the same impact on games when his team doesn't have the footy.
He's averaged just 1.12 tackles in his 16 matches this year, the lowest at the club, and has never laid more than 40 tackles in a single season across his 146-game career.
In fairness to the 26-year-old star, he's paid to hit the scoreboard, not lead the League for tackles, but in recent times his offensive output has also dropped away.
Cameron collides with Brisbane veteran Luke Hodge. Picture: AFL Photos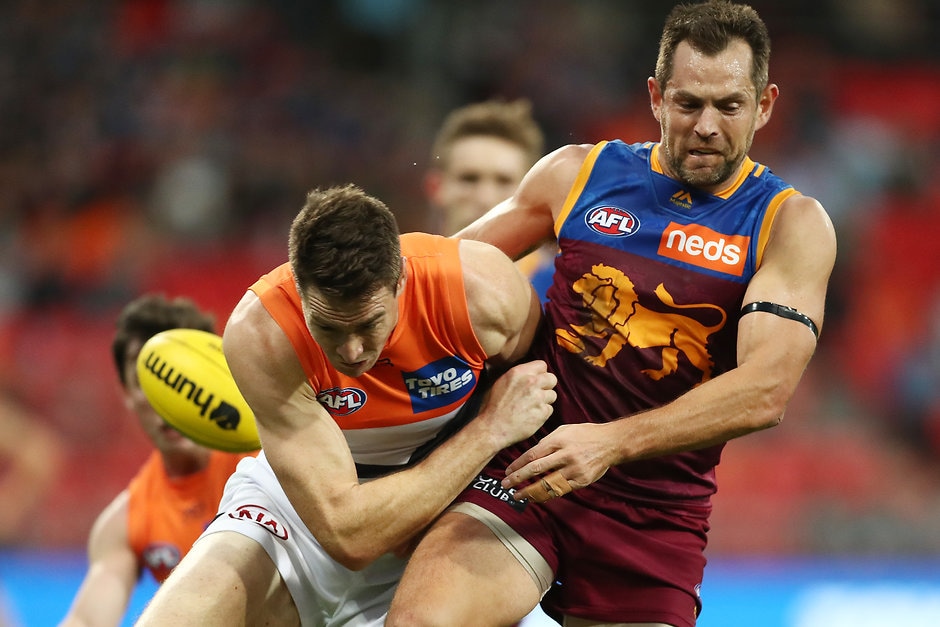 With just 10 goals from his past five matches, Cameron's form has mirrored that of the Giants, who have lost four of those games, and he said on Wednesday that he's aware that he must improve both areas of his game to help the club out of its worrying slump.
"I took a few weeks off for a while, didn't I?" he said with a laugh.
"I don't think the (criticism) is unfair at all.
"I've been disappointed with that area of my game and it's an area I want to improve in.
"Having the smalls in our forward line helps the talls (with defensive pressure) but at the same time we've got to share the load."
Cameron brings the pressure against the Swans in round six. Picture: AFL Photos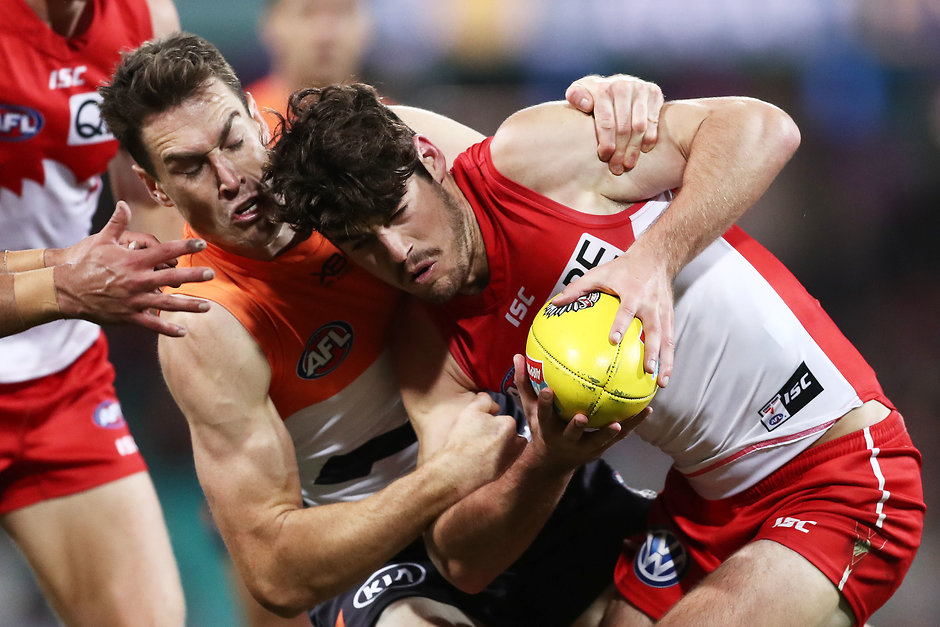 The Giants' recent poor run has seen them slip out of the top four after they looked set to contend for a top-two spot at the midway point of the year.
Now, they're in a desperate fight just to play finals.

Cameron said despite the absence of key midfielders like Josh Kelly (calf), Stephen Coniglio (knee), Callan Ward (knee) and Matt de Boer (shoulder), and their three-game losing streak, things aren't all that bad at the Giants.
In last week's loss to Richmond at the MCG, they lost Coniglio in the opening minutes of the matches, but still managed to beat the Tigers in contested ball and clearances, a feat they repeated in defeats to Brisbane and Essendon the two weeks prior.
FULL INJURY LIST Who's ruled out and who's a test?
"There's a few little things that we're tweaking and looking at, but at the same time there's a few areas that we're going really well with," Cameron said.
"I guess there's no better (team to respond against) than Collingwood who had a really good win on the weekend.
"You really find out where you're at against the better sides and our run (of games) at the moment is a really challenging one.
"We've had three losses in a row now and we really want to turn that around.
"I honestly can't wait to run out there on Saturday, I wish we were playing tomorrow."
Find Trends on Apple Podcasts, Google Podcasts and Spotify