- New bidding system for father-sons, academies
- Queensland clubs in favour of new system
- How it works: Click here to read the AFL's full explanantion
THE AFL could see the holes, and knew they were going to be exposed more and more in coming seasons. The northern club academies have grown, developed more talent and bred better players every year since their inception in 2009. The old bidding system was not strong enough to handle what was – and is – about to land.
On Thursday the League revealed its new bidding process for academy and father-son prospects. It is a complex mass of shifting draft picks and mathematics equations that takes some working out, and may have some thinking it is football's equivalent of the Duckworth-Lewis system.
But, most importantly, it is fairer for the competition and evens out some chinks that were there in the previous iteration. In the past few years of bidding, it was inconsistent (and largely random) whether a club paid market value for a player. It depended purely on finishing ladder position, meaning the advantage was sometimes far too great.
Such was the case last year, when the Sydney Swans, having made the Grand Final, drafted Isaac Heeney at No.18 despite a bid being made on him at No.2. It was the biggest ever differential between a bid and where the player finished up being picked.
Another major problem was that the previous system gave too big an advantage to clubs who had two or more prospects tied to them as academy or father-son players. Last year, the Brisbane Lions drafted two academy players – Liam Dawson and Harris Andrews. Dawson was around where he was viewed after a bid came in the second round (pick 31).
A bid also came three picks later for Andrews at No.34, but because the Lions had already committed their selections, they only needed to use their next pick, which in this case was a fourth-round selection (No.61 overall). That won't happen again under the new points-based formula. The loophole has been closed.
The Sydney Swans and Greater Western Sydney will be the first clubs to get a real taste of how hard it is to secure two highly rated players under these rules.
Swans academy player Callum Mills is likely to attract the same type of bid that came for Heeney, which means if the Swans again made the Grand Final, their first live pick would be pushed into the 60s.
If the Swans then wanted to draft father-son Josh Dunkley (who still has to make up his own mind whether he nominates or not), they will use their remaining points and push back their first pick of 2016 draft. Or, they can choose to preemptively ship off a player during the preceding trade period and bring in another draft selection to ensure they have enough points to grab both.
The same applies to the Giants, whose dilemma could be helped if one of their out-of-contract stars departs at the end of the season. They have two academy players – Jacob Hopper and Matthew Kennedy – who at this stage appear possible top-10 picks.
If the Giants finish in eighth position (with pick 11) and a bid comes at pick seven or eight for Hopper, the 20 per cent discount will mean GWS will be able to secure him with its first pick alone.
But if another top-10 bid came for Kennedy, and the Giants wanted him, they could choose to send the rest of their picks to the end of the 2015 draft, and have them owing points in 2016. Or they could also have already pulled the same ploy available to the Swans in agreeing to trade out an asset, acquire another top-15 pick and leave the rest unaffected.
Josh Dunkley is the son of former Swan Andrew Dunkley. Picture: AFL Media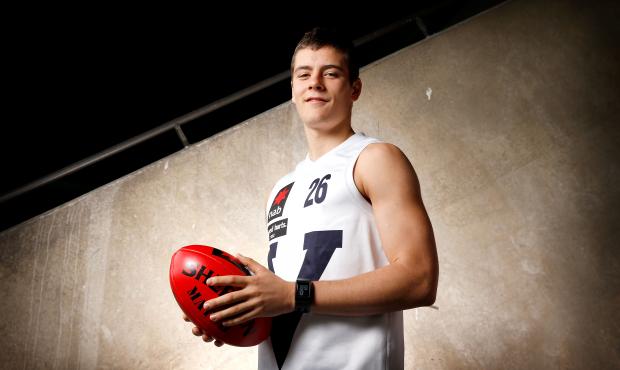 This leads to more consequences. Given the bidding process will now fall after trade period and not before it, clubs will be thinking ahead, working out how many draft points they require or need to match a bid. It may also restrict some clubs from trading players onto their list for fear of losing points.
There will be fewer guarantees to players under the new system. Although the AFL is still encouraging clubs to invest in academies and maintain the father-son tradition, recruiters will take a more pragmatic view to the players, without knowing exactly what it will cost them until draft night.
While Dunkley is taking a wait-and-see approach to his decision, clubs are likely to do the same with their own prospects under these new rules. Even the Swans last year didn't give Heeney a strong indication they would take him until after he starred at the mid-season under-18 championships.
There has never been a bid that hasn't been matched in previous years, but the new system opens up the likelihood that will happen for the first time, particularly if the bidding is a live part of the draft. In that case, clubs will be able to see which other players are available on the board. The guesswork of previous years will be gone, and some more academy players will spill out to other interested clubs.
While Collingwood president Eddie McGuire, who led the public charge against academies, will not be completely satisfied at the result, there could be more changes down the line.
The League is considering the ideal number of games for a player to qualify as a father-son and will continue to look at tweaking a rule that has already had more than 10 modifications since it was established over 60 years ago. Slashing the eligibility to 50 games might be a worthwhile option to counter the influx of academy prospects.
But the next step should be cutting back Greater Western Sydney's recruiting zone, which at the moment spreads from mid-western Sydney to the Riverina, an area renowned as football heartland for generations.
Hopper, Kennedy, ruckman Matthew Flynn and half-forward Jock Cornell (whose mother is the sister of the four Daniher brothers) are all promising prospects attached the Giants as academy players from the Riverina this year. Not all will join the Giants, but the Riverina is not far north Queensland in terms of digging for football talent. It doesn't require a search party.
AFL football operations boss Mark Evans has already said academy "boundaries are always up for discussion". To remove that football-rich region from the now Giants' grasp would be the next phase in getting things on equal ground after a positive step with the bidding overhaul.