WESTERN Bulldogs premiership hero and former No.1 draft pick Tom Boyd has lost his love for footy, having announced his shock retirement from the game on Thursday.
Having confirmed Boyd's retirement, effectively immediately, the Dogs said the 23-year-old was "relieved" about making the decision after battling with the physical and emotional toll of AFL football in recent years.
MID-SEASON ROOKIE DRAFT Former players, brothers of star on the list
"When you playing at the elite level, there's a physical and mental requirement to perform at your best all of the time," Western Bulldogs director of football Chris Grant said at Whitten Oval.
"There's no opportunity to hide from that. You're evaluated every time you step out on the field and the combination of that has been really difficult for Tom over a period of time.
"In a lot of ways, what we've seen over the last 24 hours – particularly this morning with Tom – is a sense of relief. I think that indicates that Tom's made the right decision.
"You don't get a chance of just floating through this game. If you're going to do it, you've got to do it to the absolute best of your ability both on and off the field.
"Tom believes that he's not capable of doing that anymore, so he's been incredibly honest about it."
FULL FIXTURE Every round, every game
Boyd played 61 games and kicked 50 goals after being the first player selected in the 2013 NAB AFL Draft, originally heading to Greater Western Sydney before being traded to the Dogs after one season.
No.1 pick Tom Boyd meets his first AFL coach, Leon Cameron. Picture: AFL Photos
"My decision to retire now is a reflection of issues I've had over the past five years both with physical injury and with mental health, and they have now accumulated to a point where I just don't have the desire to play or the enjoyment of the game I used to have," Boyd said in a statement.
GRAND BANG FOR YOUR BUCK The day Tom delivered on the big stage
"I've spoken with key people at the Western Bulldogs and my close friends and family, and I am satisfied that this is the right decision for my future.
"I approached the club about my desire to retire and be released from my contract this week, and we have worked out a mutually agreeable position."

Boyd and his manager Liam Pickering met with the Dogs on Thursday and have come to "a friendly resolution" for the remaining years of his lucrative contract.

He joined the Dogs on a seven-year, $7 million deal and was contracted with the club through to the end of 2021.
Find In the Game on Apple Podcasts, Google Podcasts or Spotify
However, Boyd's payment in 2019 will be reduced, while agreed payments for the 2020 and 2021 seasons have been cancelled.
He will remain on the club's long-term injury list throughout the remainder of the 2019 season, though the Dogs believe he is unlikely to stay on its list as a retired player – similar to Kurt Tippett at Sydney and Will Langford at Hawthorn – beyond that.
"We worked very hard to bring Tom to the football club at the end of 2014, and he has been a great contributor to the Bulldogs for over four years," said Bulldogs director of football, Chris Grant.
"Everyone at the Bulldogs is saddened to hear of Tom's decision to retire, given he is a much-loved and respected person around the club."
FULL INJURY LIST Who's ruled out and who's a test?
Boyd has been open in his mental health battles in recent seasons, and has played only 23 games at AFL level since his match-winning display in the Dogs' breakthrough 2016 flag.
He booted three goals and took eight marks against the Swans in their Grand Final win, with many viewing him as the most influential player on the ground in the Dogs' emotional triumph.
Boyd was instrumental in the historic 2016 premiership decider. Picture: AFL Photos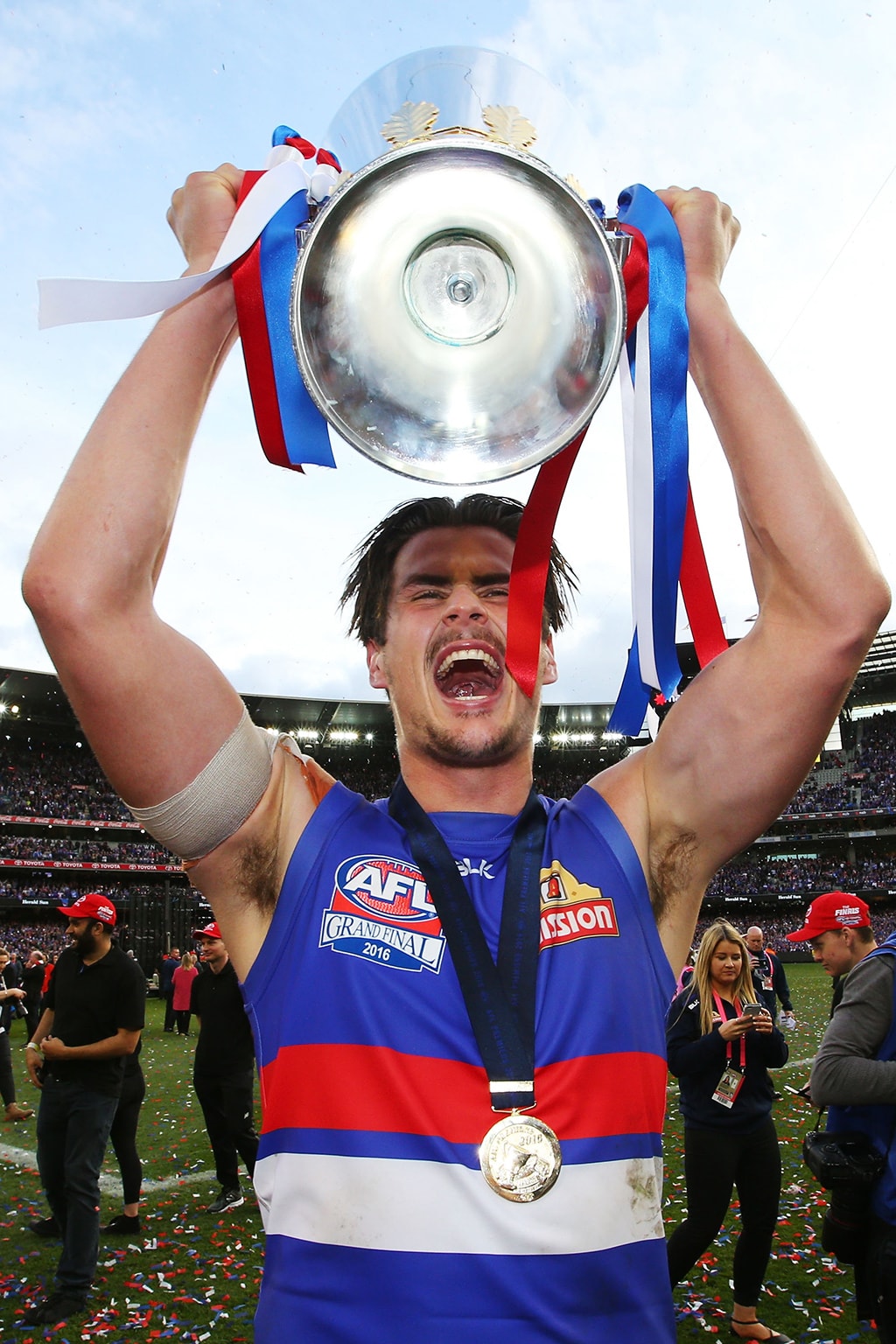 "I have received unbelievable support from the players, coaches and staff at the Western Bulldogs, particularly over the last couple of years, which I will always appreciate," Boyd said.
"Leaving the game as a premiership player is something I will always be proud of, along with all the enduring relationships I have forged and the memories I have created along the way."
WHO MAKES FINALS? Do the 2019 Ladder Predictor
Boyd was drafted from the Eastern Ranges and played nine games for the Giants in his debut season before requesting a trade back to his home state and the Dogs.
TOM BOYD TIMELINE
October 21, 2013: Drafted to GWS with pick No.1 in the NAB AFL Draft.
April 20, 2014: Plays his first AFL game for Greater Western Sydney.
October 13, 2014: Officially requests a trade to the Western Bulldogs.
October 15, 2014: Traded to the Western Bulldogs for Ryan Griffen and pick No.6.
April 4, 2015: Plays his first AFL game for the Western Bulldogs.
June 30, 2016: Suspended indefinitely for "violent" altercation with teammate Zaine Cordy.
October 1, 2016: Kicks three goals to help the Western Bulldogs to a drought-breaking flag.
July 5, 2017: Takes indefinite leave of absence to receive treatment for depression.
July 22, 2018: Suffers back injury that prematurely ends his season, interrupts pre-season.
May 16, 2019: Announces retirement from AFL after 61 games and 50 goals.