COLLINGWOOD defender Lynden Dunn is uncertain when he will return to the field but says he will do everything in his power to put his hand up for the start of the season.
Dunn had an arthroscope on his reconstructed knee two weeks ago and began running on Monday as he pushes to make his comeback at the start of the 2019 season.
The 31-year-old ruptured the anterior cruciate ligament in his left knee in late June, ruling him out of Collingwood's September campaign and subsequent Grand Final charge.
The veteran backman said he was looking forward to progressing to the next stage of his recovery and getting back out on the ground as quickly as he can.
CLUB LISTS COMPARED Oldest? Youngest? Most experienced?
"I'm confident I'll be able to get back ASAP and I feel as good as I felt. I feel like I'm 22 at the moment and fingers crossed it can stay that way," Dunn said on Wednesday.
"When I come back – whether it's round one (or) whether it's round 10, who knows? ... I can't really set a target at the moment, it's basically on feel."
"If I'm not ready, I'm not ready. I'd certainly rather play the back half of the year rather than the front half of the year like last year."
FULL FIXTURE Every round, every game
Dunn said he had received great support from close mate Tyson Goldsack, who came back to play in the club's finals series after a remarkable recovery from his own ACL injury in the pre-season.
"He's opened a can of worms, which is great, but it's case by case for us," Dunn said.
"Catching the back end of a European summer probably helps. I've never seen a bloke go over to Europe in the middle of a footy season and come back and play in a Grand Final.
"He's been great for me and we've got Matty Scharenberg here as well. It's great to have those guys to lean on and feed off each other."
WHO MAKES FINALS? Do the 2019 Ladder Predictor
The Magpies players had the chance to review the Grand Final loss to the Eagles last week and Dunn said the session acted as "closure".
"It was just closure on the day itself," Dunn said.
"We hadn't really spoken about it as players or coaches but I think it's important that we acknowledge what happened and we played a heck of a game.
"In the scheme of things, it doesn't really mean much because we don't have medals hanging around our necks or we don't have a trophy in the cabinet."
Collingwood's men's team joined the Magpies' AFLW team for a joint training session on Wednesday, with Dunn pointing to the one-club mentality as an important thing to build team culture.
Collingwood's AFL and AFLW teams train together to build team culture. Picture: AFL Photos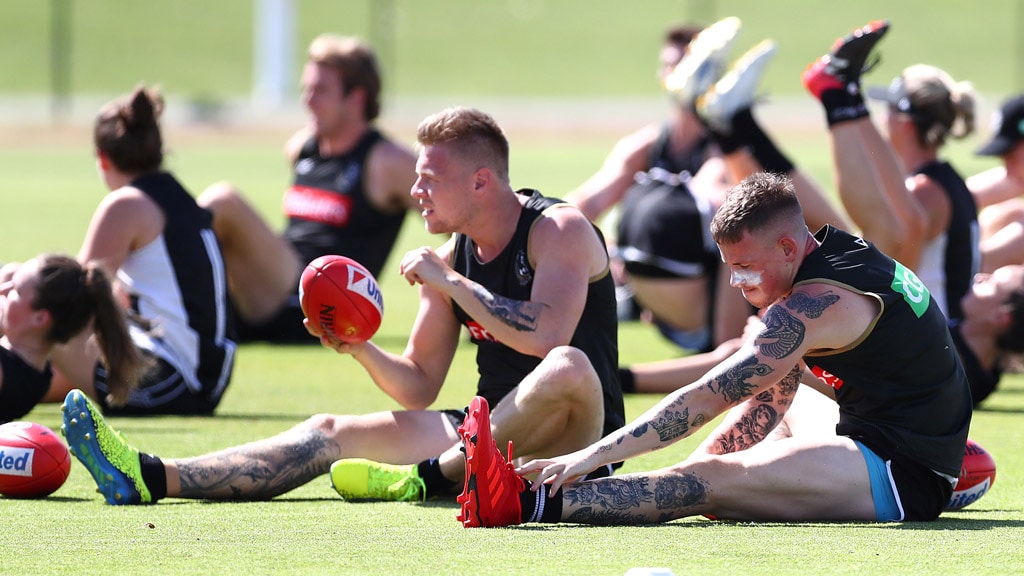 The entire squad took part in skill-related drills, working with the smaller size four balls used by AFLW players.
Assistant coaches manned each drill, with mixed groups of AFL and AFLW players moving between them.
Irish Magpies Sarah Rowe and Anton Tohill impressed in mixed soccer, especially as Rowe has represented her country in the sport (as well as playing Gaelic football).
Sharni Layton and Mason Cox battled in contested marking drills (with Cox standing in one spot while former netballer Layton took a running jump), while young midfielder Holly Whitfield showed up several AFL players in a dodging and kicking drill, much to her delight.
AFLW captain Steph Chiocci, who joked she was taking a "sick day" from her day job as a teacher to attend the training session, said it was a great learning opportunity for the team.
FULL AFLW FIXTURE Check out when and where your club plays
"It's invaluable … just to rub shoulders with the best of the best, obviously they were runners-up last year," Chiocci said.
"They've got an elite standard. Just running around with them, seeing how they go about it, just the little things they do well and the fundamentals.
"It really is no different to what we do, obviously a different standard, but it's not too different to our expectations, and it's great to be able to do that with them."