BRYCE GIBBS
Standout performance: In a very good career now spanning 256 matches with two clubs, Gibbs' best year can be traced back to 2014 - a best-and-fairest at Carlton under Mick Malthouse's coaching.
Where's he at? Had a solid first year with the Crows in 2018, but with Brad Crouch returning to the mix, now seems lost in being forced to play a stop-gap role across half-back. As he often does, got plenty of the ball last round against Geelong, but butchered his delivery. Needs to either embrace playing outside the engine room, or demand through words with coach Don Pyke – and ultimately actions – to be reincluded in the midfield mix.
Why the Crows need him at his best: The Crows recruited him as the icing on the cake after their Grand Final loss in 2017. They won't be returning to deep-September action unless Gibbs gets out of this lethargy.
AROUND THE STATE LEAGUES Who starred for your club?

DANIEL McSTAY
Standout performance: Has played 82 matches being recruited at No.25 in the 2013 draft. Is extremely versatile – played as a key back in 2017, and as a teammate-protecting tall forward last year.
Where's he at? Has had good continuity since his debut, and should be primed to play a more prominent role. Certainly belongs on AFL venues, but is clearly taking time to realise he is an important part of the Lions' mix. With a full 2018 season and three 2019 games as a forward now into his system, should be poised to step up. Should be aiming to better use his size and agility, and also hit the scoreboard more than he has (22 goals last year, three this year).
Why the Lions need him at his best: If McStay can elevate himself a few notches, then the Lions' spine will look scarily good.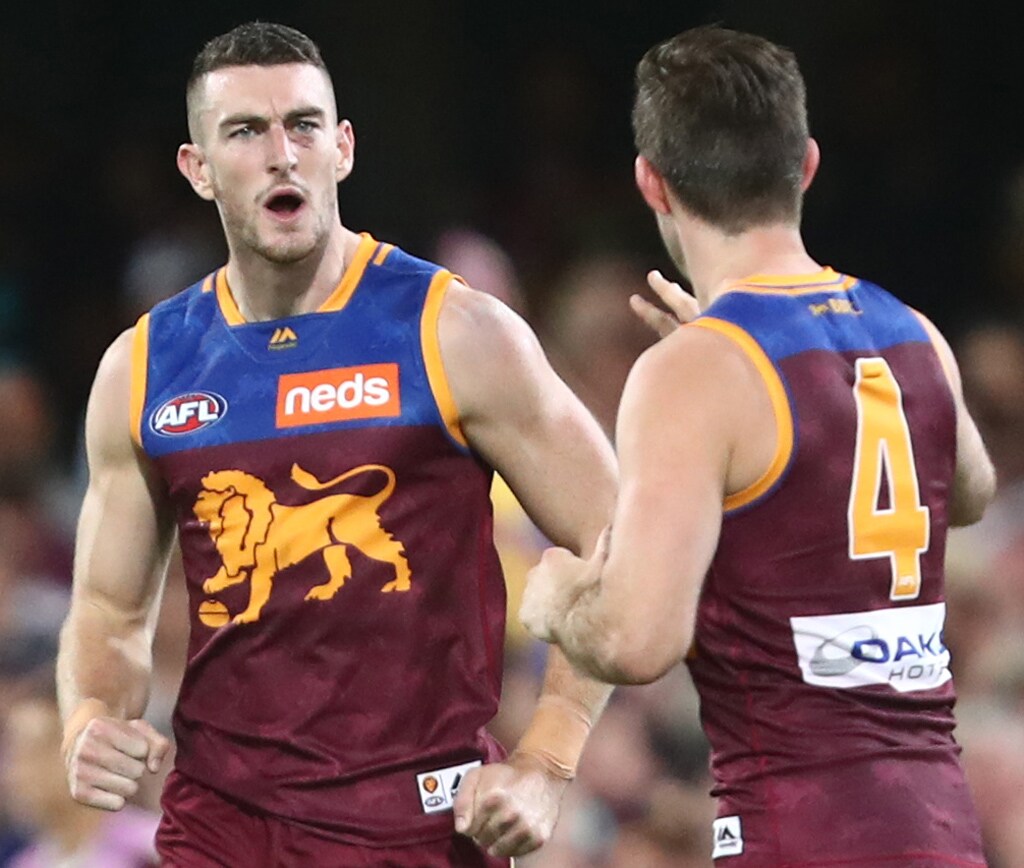 LACHIE PLOWMAN
Standout performance: Round 1, 2017. 20 disposals, 10 marks against Richmond.
Where's he at? This is a tough question to answer when it comes to Plowman, for he's been solid and dependable enough without ever looking like becoming the type of player we all thought he was going to be when taken at No.3 overall (by GWS) in the 2012 NAB AFL Draft. Can play a defensive shutdown role OK but could clearly improve his reading of the incoming ball, and should be looking to intercept more than he does.
Why the Blues need him at his best: If Carlton is to emerge from its seemingly never-ending losing ways, players like Plowman, now in his seventh AFL season, need to assert more authority.

BRAYDEN SIER
Standout performance: In just his ninth game, Sier looked as seasoned and poised as Scott Pendlebury in the Pies' qualifying final loss to West Coast last year.
Where's he at? Right now, in no man's land. Simply can't find a spot in Collingwood's 22, hasn't played seniors since the 2018 Grand Final. Got his chance at the top level last year when Adam Treloar broke down, but is now suffering from the return of Dayne Beams. Is seemingly carrying injury (hasn't been training fully, and didn't play VFL last weekend). Is a huge-bodied midfielder who has already attracted a lot of interest from rival clubs.
Why the Pies need him at his best: As lauded as the Magpies on-ball group is, it is actually badly lacking the quality Sier offers – a big-bodied inside mid. Beaten in this facet of the game in rounds one and three this year.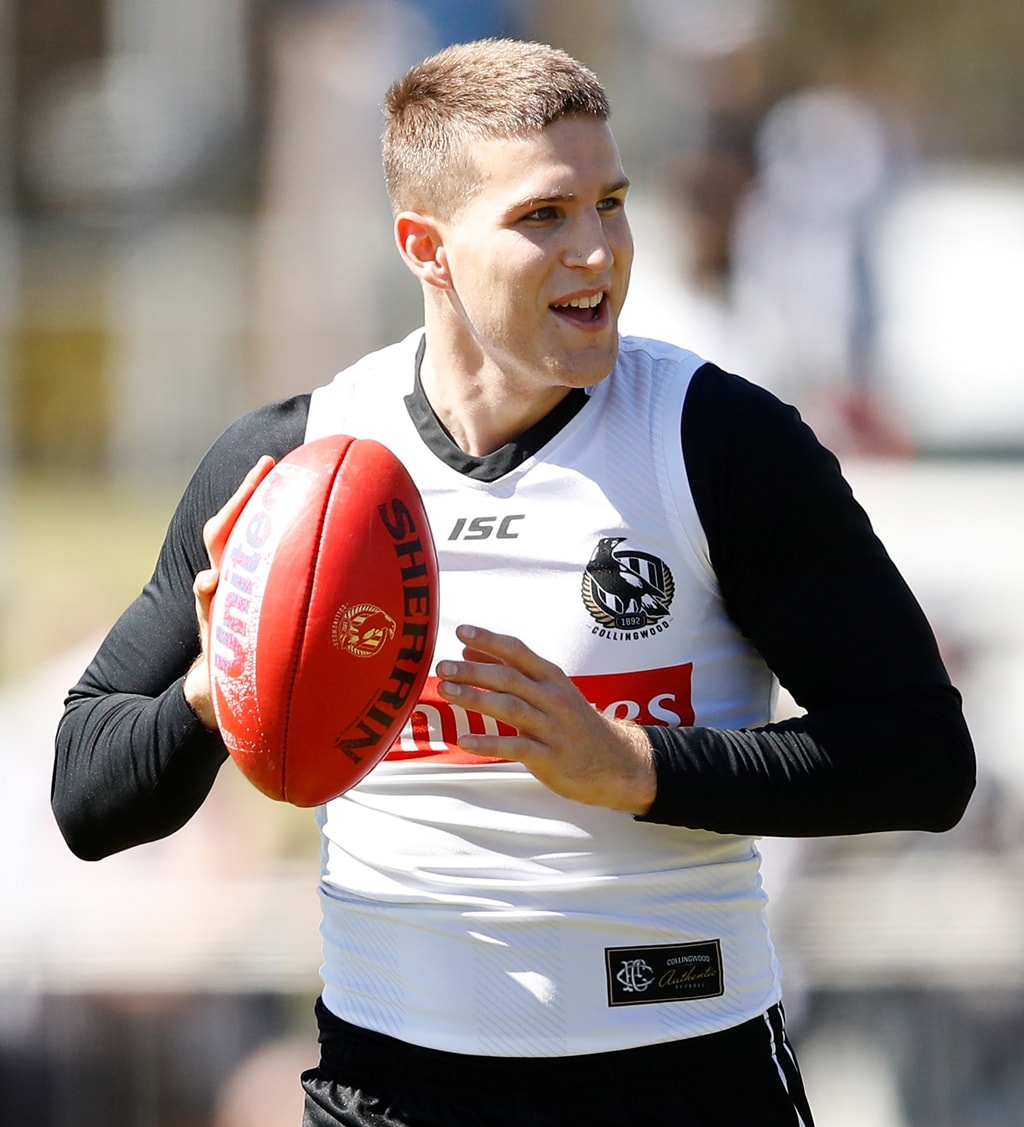 JAYDEN LAVERDE
Standout performance: Round 23 last year. Six shots at goal (for 3.3) and 17 disposals in a good win against Port Adelaide.
Where's he at? The midfielder/forward has been injured throughout his time at Essendon, with a hamstring problem last year and a serious ankle complaint in 2017. Couldn't crack it for a spot in the 22 for the Bombers' round one game, then hurt his ankle again. When you're a first-round draft pick of a club, as Laverde was in 2014 (No.20 overall), expectations are always heightened. Has the luxury of a fresh contract which takes in 2020, but Laverde, with just 30 matches behind him, is running out of time.
Why the Bombers need him at his best: Essendon's forward line mix requires a few tricks, which Laverde no doubt possesses.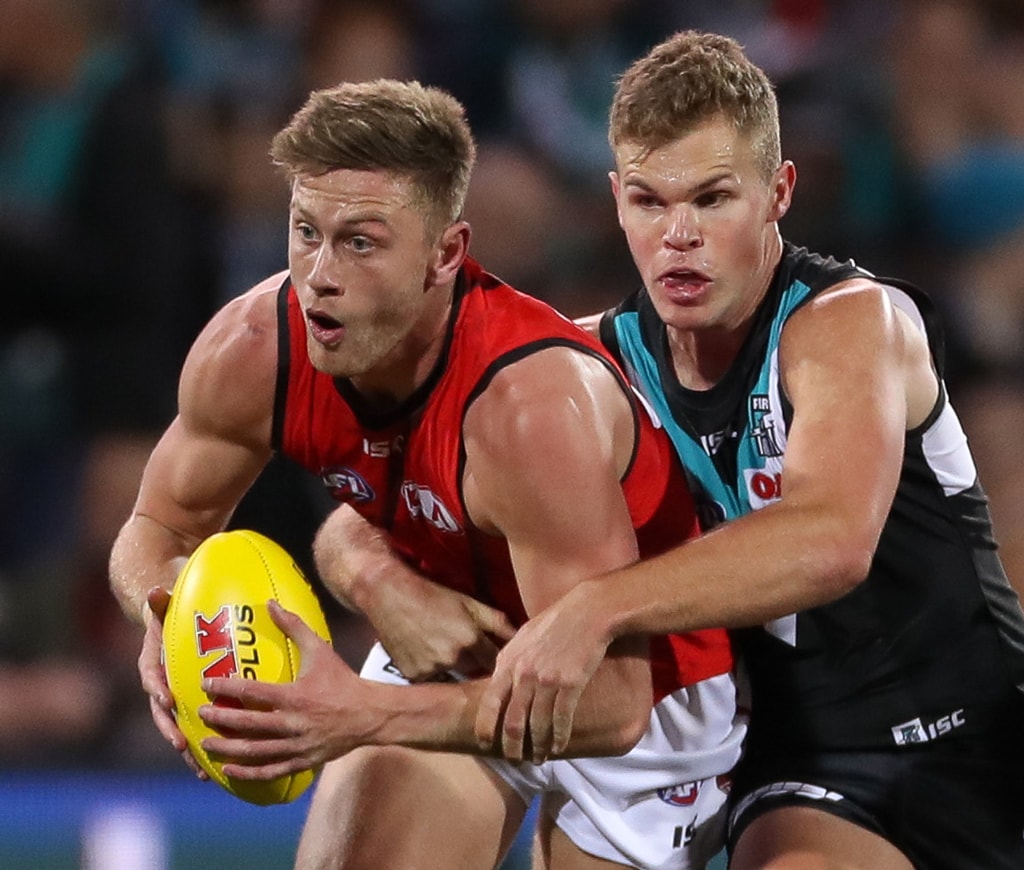 JESSE HOGAN
Standout performance: Booted five goals in consecutive weeks last season in what at that stage was looming as a great season for the Demons.
Where's he at? Potentially, still the next big thing. Potentially, still a massive question mark. Injury wrecked his final year at Melbourne, but with 47 goals from 20 matches (the third time he'd kicked 40-plus in a four-year career) there is no doubting his ability. But just constantly looks uninterested. Got off to an embarrassing start with the Dockers when the club banned him from the first game after a bender. On big money and hasn't kicked a goal in two games.
Why the Dockers need him at his best: Round one's score blitz was an aberration, with eight and 11 goals kicked by the Dockers since. They simply need Hogan, and Ross Lyon needs to free him up mentally with a game plan conducive to his talents.

ESAVA RATUGOLEA
Standout performance: Geelong's narrow loss to West Coast in round two, 2018 – his second AFL game. Blicavs and Ratugolea in the ruck v Nic Nat. 14 disposals, two goals, seven hitouts, eight marks (three contested).
Where's he at? Injury in the form of a broken ankle ended his debut AFL season at the halfway point, and then that ankle needed a clean-up procedure in September. This year he has tallied five, six and six disposals in his three matches and kicked just one goal. Provides a good second ruck behind Stanley and foil for Hawkins but needs to lift. Showed more than enough in his eight matches last year to believe the sky is still the limit.
Why the Cats need him at his best: Stanley has stood up really well to this point of the season as the main big man. But he is going to need help from Ratugolea if Geelong is to bat deep into September.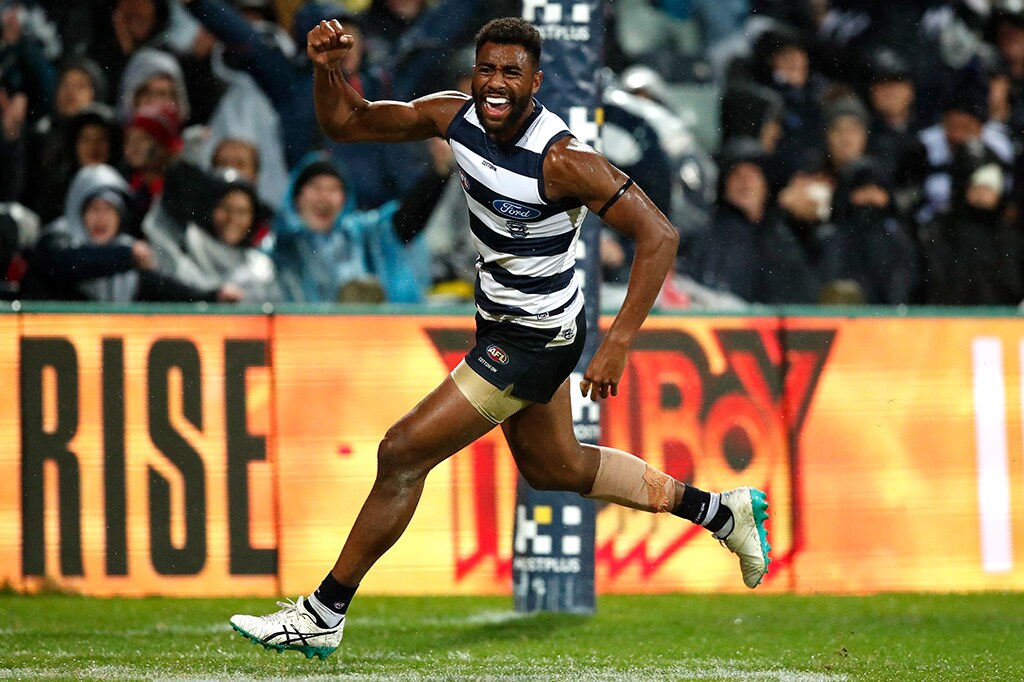 PEARCE HANLEY
Standout performance: The 2013 season, where he was runner-up in the Brisbane Lions best-and-fairest.
Where's he at? Finally seems to be getting a fair crack at footy, after serious personal and injury matters of the past two seasons. Has been scratchy in the Suns' unexpectedly brilliant start to 2019, but that is actually a good thing, as his touch will return with continuity of play. Is as creative a player as any on this Suns list.
Why the Suns need him at his best: At his best, Hanley is one of the AFL's most creative players off half-back. His dash and dare will be a point of difference in this emerging Suns team.

HARRY HIMMELBERG
Standout performance: Four goals against the to-be premier Richmond in the 2017 preliminary final.
Where's he at? Still tracking nicely, but can go in and out of games, and in and out in a series of matches. Just the two goals to this point of 2019, and hasn't taken a contested mark. Had a serviceable 2018. At times looked as though he was about to take over a match, but rarely did. Is clearly a team and role player, but may personally benefit from being a tad selfish at times. Still reckon he could be anything.
Why the Giants need him at his best: Simply, Jeremy Cameron needs a right-hand man. And if he really lets himself go, Himmelberg is capable of being a Cameron-equal.
Find In the Game on Apple Podcasts, Google Podcasts or Spotify

HARRY MORRISON
Standout performance: A big-time goal late against the Swans in a must-win round 23 game last year.
Where's he at? In the big picture, tracking nicely, but given what we saw in 2018, there is so much more to give in 2019. Made his debut in the final game of 2017, then played a key role in a team which finished top-four after the home-and-away season last year. A good tackler who generally uses the ball well. One of many courageous Hawks.
Why the Hawks need him at his best: No Mitchell, and for a while at least, no Burgoyne and no Shiels. The Hawks need midfield cover and if Morrison can step up, the midfield would benefit.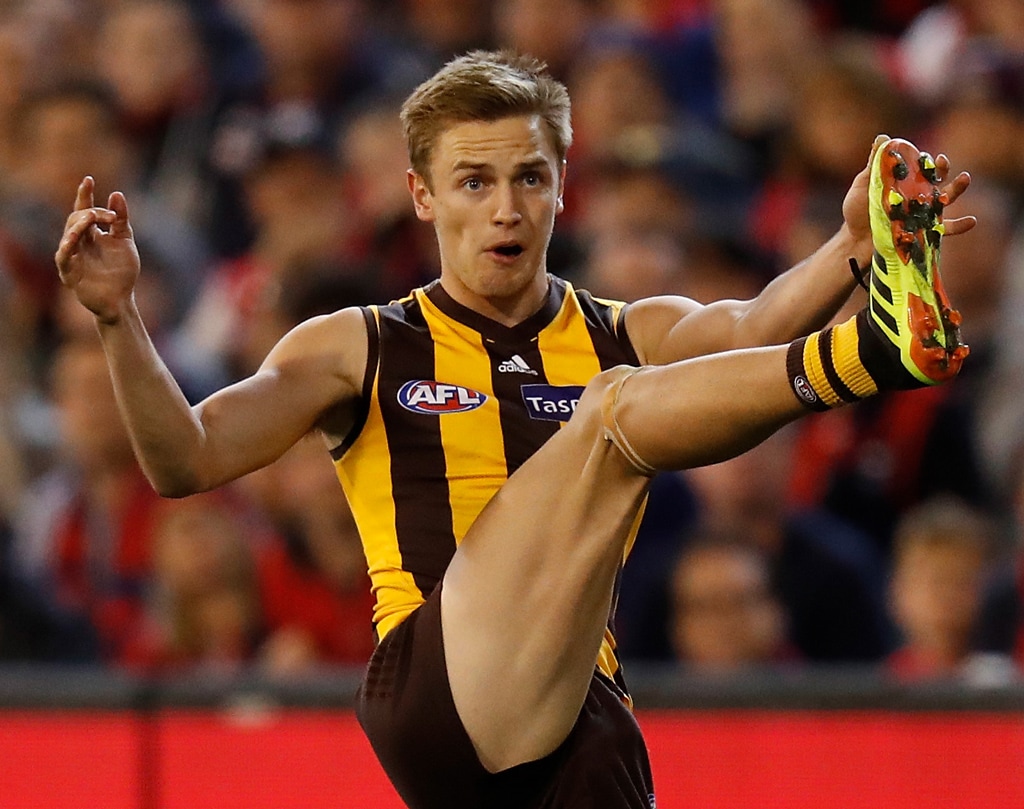 CHRISTIAN PETRACCA
Standout performance: A commanding, coming-of-age performance against Hawthorn in a 2018 semi-final.
Where's he at? A prodigious talent, but still drifts in and out of games. Was a lot better in round three, but even in that match, fell away after the main break. Is rated harshly, no doubt. But that's only because the industry respects his talents. After pre-season knee surgery, will be restricted to a half-forward role for a while at least, and not the midfield one he would probably most benefit from, simply because of his lack of a midfield tank. Regularly queried about his fitness, though, which isn't ideal now that he's into a fourth season of senior footy.
Why the Demons need him at his best: The 2019 season is slipping away from the Demons. It is time their players with potential topline talent, like this guy, actually take on significant responsibility.
NINE THINGS WE LEARNED Why the Dees are easybeats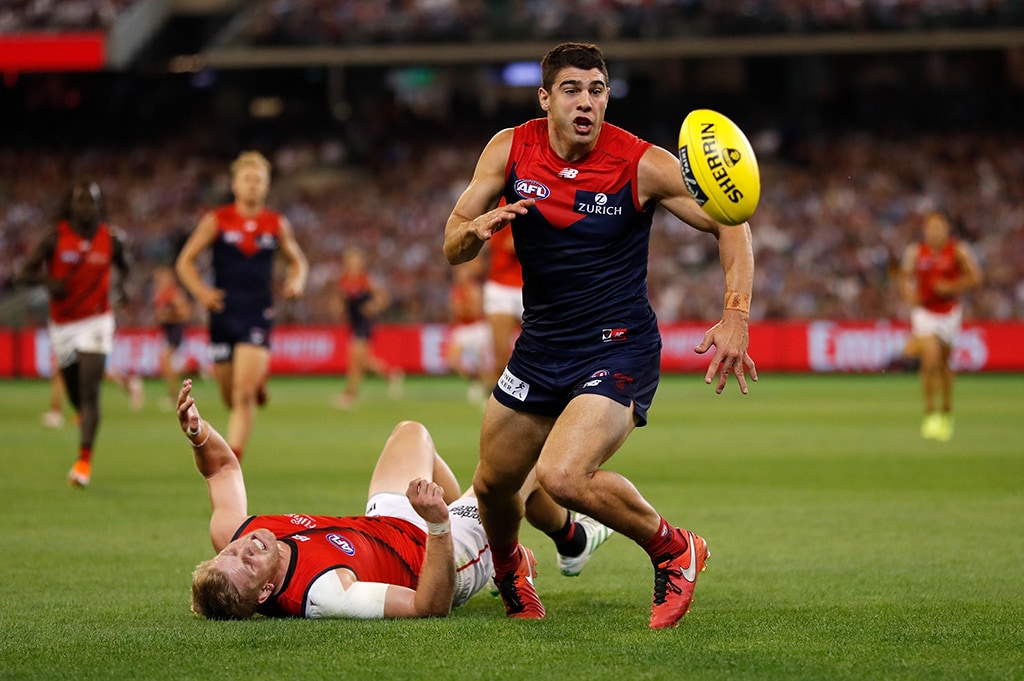 LUKE McDONALD
Standout performance: Put together a nice 2017 season, where he finished fifth in the best-and-fairest and seemed poised to become a key player.
Where's he at? Probably lucky to be getting a game right now. His three games of 2019 haven't been any better than what he displayed in a disappointing 2018. It's strange, what's happened here, because in his debut 2014 season, McDonald looked highly promising. He simply hasn't developed, nor has he been developed, which makes even more peculiar the fact the club gave him a three-season contract extension late last year. There's time for him to get it right. But he needs to fight and scrap and be desperate.
Why the Roos need him at his best: There's no tricks to this Roos' side. At his best, McDonald is a smart ball user and reads the play well. Maybe play him in a shut-down role until Jacobs returns.
FULL INJURY LIST Who's ruled out and who's a test?

RILEY BONNER
Standout performance: A NAB Rising Star nominated performance in round one last year with 31 disposals against Fremantle.
Where's he at? Has all the tricks and a player who could go to the next level. Has dash and dare as part of his armoury. A good kick, but not a long kick, though. Showed promise in 19 games in 2018, but is yet to hit his straps this year, with disposal efficiency a worry. There is still potential for significant upside, but his time is now.
Why the Power need him at his best: With the unavailability of Hartlett and Broadbent, Port Adelaide requires cover and Bonner has been presented with a great opportunity to elevate his own game in their absence.

DUSTIN MARTIN
Standout performance: No one in the modern era has put together a season of pure and raw dominance as Martin in 2017. His last five games that year saw him average 30 disposals and two goals.
Where's he at? Will forever be an all-time AFL great no matter what happens from here, but right now he's struggling. With his own expectations, and the stresses which come with them. With opposition taggers like Greenwood and de Boer. With an ever-so-marginal drop-off from the manic obsession and commitment of 2017 to not just be the best player in the game, but the best player by sizeable distance. His coach and manager haven't helped with public utterances about opposition scrutiny.
Why the Tigers need him at his best: This season is slipping away, quickly, and they don't just need Dusty at his best. Right now, they just need him full-stop. No Rance, no Riewoldt, no Cotchin is an ugly situation even before his suspension.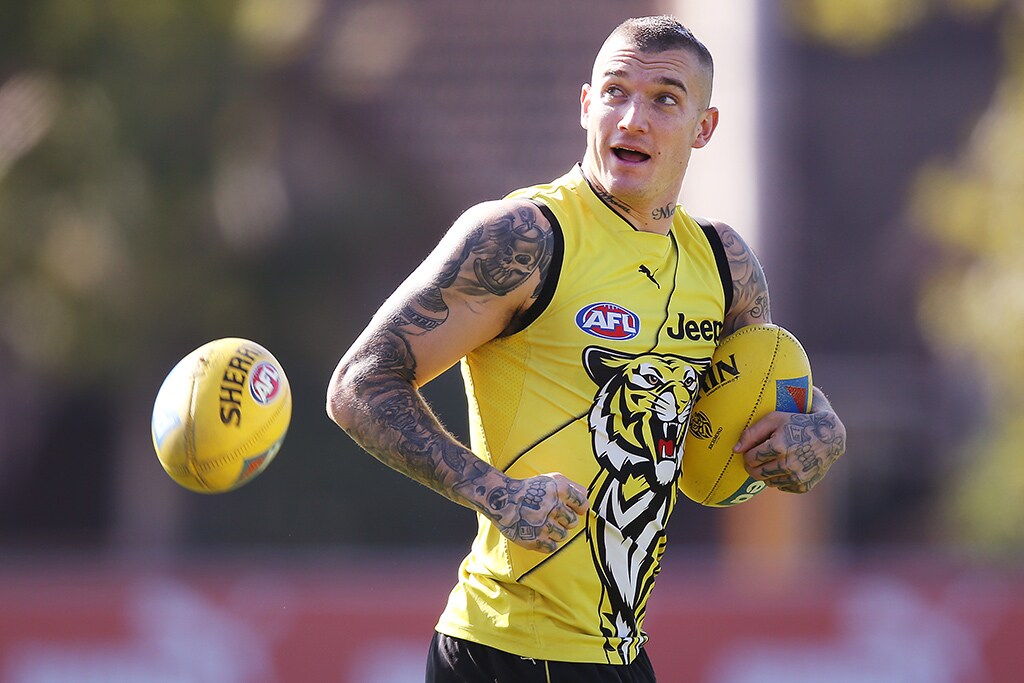 HUNTER CLARK
Standout performance: A solid debut AFL season in 2018, mainly his 17-disposal NAB Rising Star-nominated game of round 13 against Gold Coast.
Where's he at? Obviously still very young, but surprisingly given his 15 matches in his first year, couldn't crack it for a game in 2019 until round three, and even then, only got that opportunity when Steven was rested. Too talented to be on the fringes of a workmanlike St Kilda side, should be winning a spot ahead of Dunstan.
Why the Saints need him at his best: They invested heavily in him with pick No.7of the 2017 draft. Has toughness and class, and it should be used.

ALIIR ALIIR
Standout performance: Back half of the 2016 season.
Where's he at? Poor discipline off-field saw him dropped after missing training early in 2017, and he was clearly on the outer with officials. Regained trust last year after the halfway point and is athletically freakish. Has genuine flair and creativity. Despite the problems, could still be anything if fully fit and focused.
Why the Swans need him at his best: The backline is a major worry for the Swans. If Aliir can be allowed to settle, he would provide dynamic play which is not necessarily in the Swans' DNA.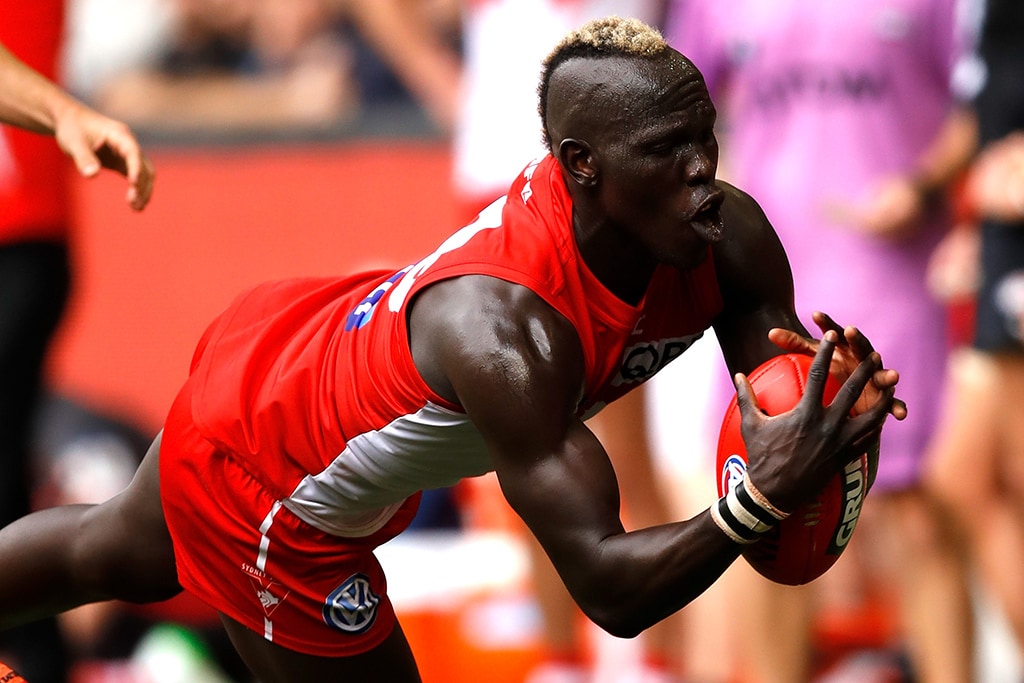 DANIEL VENABLES
Standout performance: A premiership player in a season in which he played his first AFL game.
Where's he at? Still very young in a footy sense, but clearly not a guaranteed part of the Eagles' premiership defence plans. That's OK, because this team is obviously mightily talented. Has had a couple of injury issues. Looks a bit like his Norm Smith medallist teammate Luke Shuey, and needs to start copying his work ethic in games. Played in the WAFL on the weekend, where he started OK but faded. Needs to use his WAFL time to get some proper match fitness.
Why the Eagles need him at his best: Premiership places are never gifted, and that Venables gained such status in his 15th match says something of his standing within this proud club. He just needs to rediscover that spark, and now that it is a fully hunted club, the Eagles need to have internal competition for spots in the 22.

JOSH SCHACHE
Standout performance: Round two versus Hawthorn this year, a career-high four goals
Where's he at? Coach Luke Beveridge keeps pumping him up, and he's clearly a project player. But he's still a long way off being able to be relied on. For a No.2 overall draft pick (Brisbane), he never presented as a high-end footballer in the two years with the Lions. Seems to have got his body right, but there is a lot of work still to do. Kicked a goal in round one, then a career-best four in round two (one was gift-wrapped with a bow on top by an umpire), but didn't hit the scoreboard at all in the round three loss to the Suns.
Why the Dogs need him at his best: Goal scoring has been a massive issue the past two seasons. If Schache can maintain something like round two form, then the Dogs will be a chance in most matches.