SOMEHOW, St Kilda is 3-1.
It's been an incredible start to the season for coach Alan Richardson, who entered the year as the most under-pressure coach in the competition, in charge of a team widely tipped to finish amid the bottom rungs of the ladder.
That was a fair analysis too, considering its top-line stars unavailable after a four-win campaign in 2018.
WHO MAKES FINALS? Do the 2019 Ladder Predictor
Defenders Jake Carlisle (back surgery) and Dylan Roberton (heart), along with boom recruit Dan Hannebery, will miss large chunks, if not all, of 2019. Four-time best and fairest Jack Steven has battled a mental health issue and the desperately unlucky Paddy McCartin faces uncertainty as he deals with his eighth concussion in five years.
AFL.com.au has had a look at several of the factors behind the Saints' stunning turnaround.
Richo goes slow
Last season, St Kilda was helter skelter with the footy. No team played on more than the Saints after a mark taken in the backline or midfield, which happened 40 per cent of the time.
That number is down to 21 per cent, which is No.17 in the AFL.
It has gone from continually rolling the dice, to being composed with ball in hand.
FREE AGENTS LIST Who is in this year's pool?
Furthermore, the Saints have leapt up the charts with how many marks they take per match, and have slowed the game down with increased stoppages.
They have changed their philosophy on when to go fast and when to go slow.
When clubs hire staff, those additions bring intellectual property. So when St Kilda added Brett Ratten to take care of ball movement last August, along with the forward line, he brought with him knowledge from a six-year stint under Hawthorn guru Alastair Clarkson.
Brett Ratten has brought an added dimension to the Saints this season. Picture: AFL Photos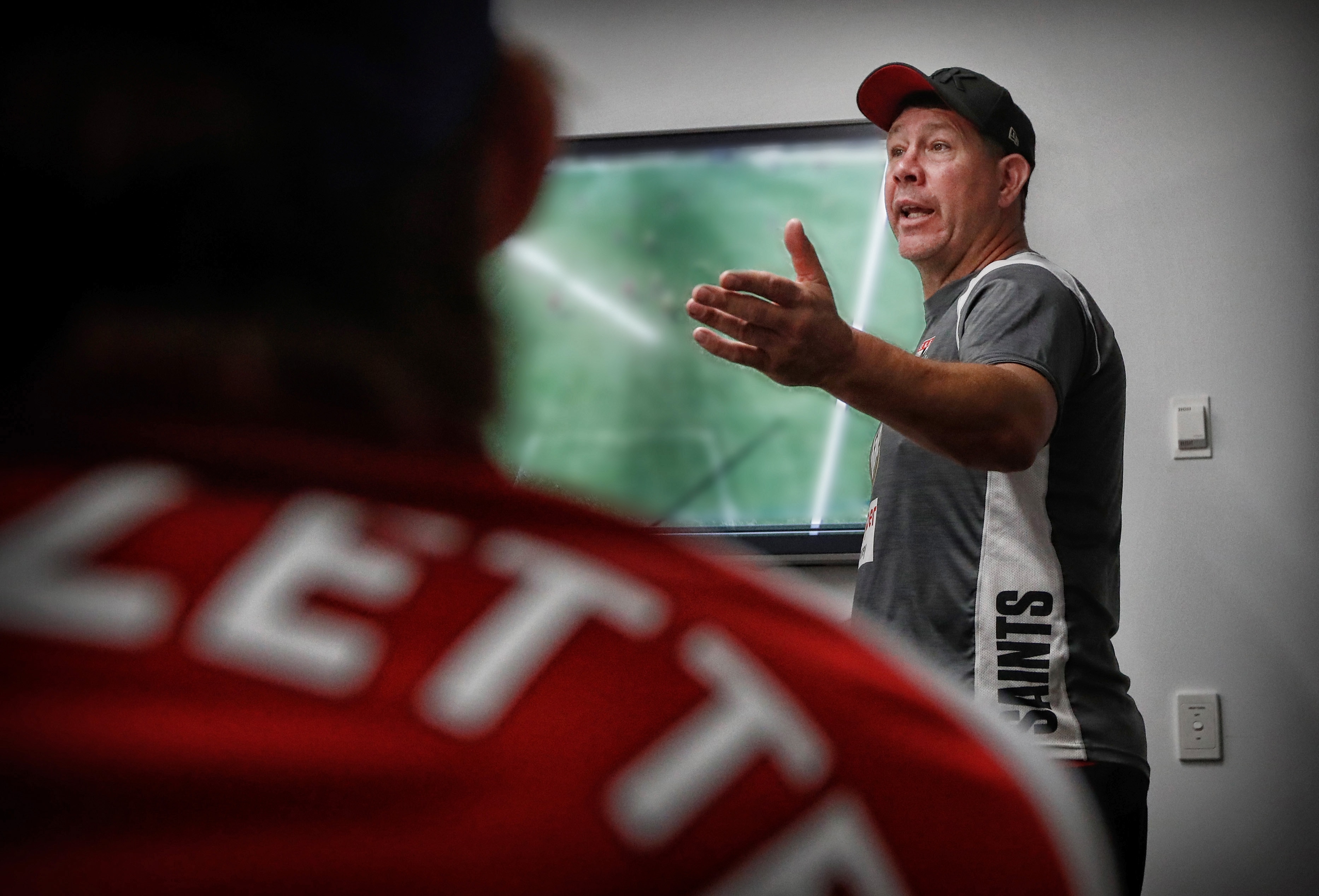 That's the Hawks side that won three flags and finished in the top four after the home and away campaign on another two occasions in that span.
Those teams were renowned for owning the football, and it's no surprise to see that trait become more of a feature in the Saints' gameplan.
Going slower has another benefit. With players not frantically rushing forward of the footy, they are instead set up well behind the ball if a turnover occurs.
FULL FIXTURE Every round, every game
It's no surprise then that St Kilda is fifth for points conceded entering round five, after being ranked 16th in 2018.
The Saints are kicking long more often as well, doing it one in every two times after marking or having a free kick (not including set shots).
Once lauded for their pressure, that dropped away completely last year. It's back now.
| | | |
| --- | --- | --- |
| St Kilda's changes | 2018 | 2019 |
| Pressure applied | 175 points (18th) | 183 points (5th) |
| Mark play-on percentage (Not including F50) | 40.1 per cent (1st) | 20.6 per cent (17th) |
| Marks | 76.5 (17th) | 94 (4th) |
| Stoppages per game | 50.8 (18th) | 70.2 (3rd) |
| Points from forward half clearance | 11.5 (17th) | 20.2 (1st) |
A different draft mindset
Ordinarily, teams draft the best player available. St Kilda did that with its first two selections last November, taking Max King at No.4 and Jack Bytel at No.41, despite the pair battling long-term knee and back injuries respectively.
It was after that where they went needs-based, and have found immediate contributors who delivered necessary qualities.
Richardson wanted more speed up forward, so the Saints consequently picked up Matthew Parker at No.47 and Robbie Young at No.67, while Dean Kent was traded in from Melbourne.
MID-SEASON DRAFT 50 players who could spark up your list
Young is yet to line up in the senior side but the left-footer possesses electrifying speed and an intent to hurt with his ferocious tackling.
Parker has played in every game so far and has similar attributes but at 190cm, he offers another marking target and has a penchant for producing the brilliant, as evidenced by this pre-season screamer.
Okay Matthew Parker you have our attention!

What a mark by St Kilda's new recruit #JLTSeries pic.twitter.com/cXU7xZpvCi

— AFL (@AFL) March 10, 2019
The most important pick-up, though, has come via the rookie draft. Callum Wilkie's presence in a backline decimated by the absence of Carlisle and Roberton has been significant, having averaged 6.5 intercepts per game.
St Kilda was confident Roberton would be right to go after being ruled out for much of 2018 with a heart problem, but knew it had to plan for the worst-case scenario.
Wilkie, taken from North Adelaide, was seen as a Roberton-clone (albeit not as good) and the 23-year-old former accountant has provided courage and an accurate left boot to a backline that has some shaky users, and has since been rewarded with a new deal keeping him committed to the Saints until the end of 2021.
Mature-age recruit Callum Wilkie has made an impressive start to life as a Saint. Picture: AFL Photos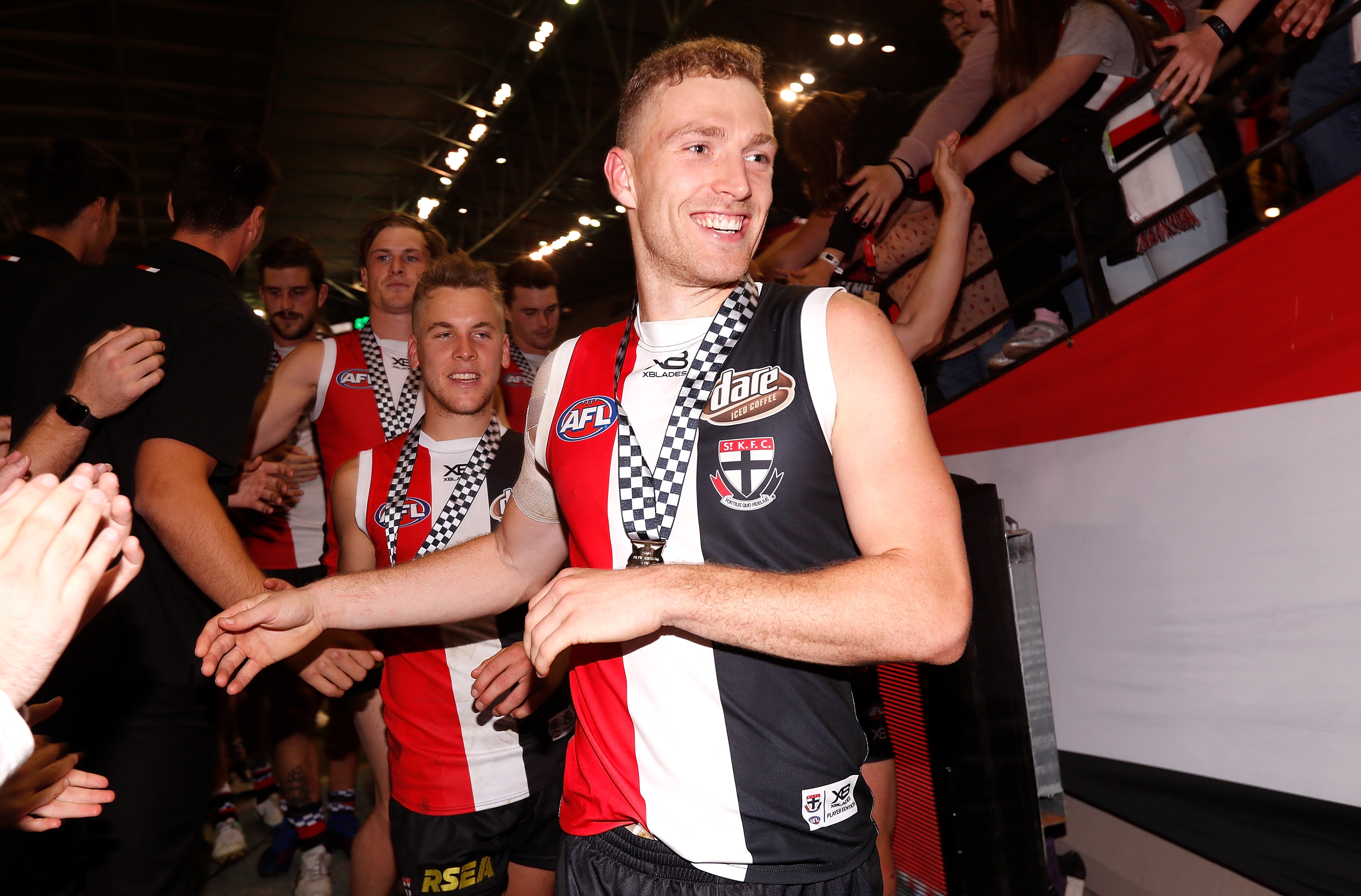 The other mature-age selection was Nick Hind, whose blinding speed and accurate delivery has him on the cusp of senior selection, particularly after a 41-disposal and one-goal display in the VFL last week.
That's something else those older players provide – real competition for spots, which disappeared in 2018, and younger types were exposed before they were ready.
St Kilda never expected the older draftees to come in and dominate immediately but love what they have delivered so far.
A brutal preparation
Football manager Simon Lethlean made a bold declaration in February.
"We're the fittest team in the comp in our view, and we're going to run teams off their legs," Lethlean said on Melbourne radio station 3AW.
St Kilda went into the pre-season making a conscious effort to prepare the players – not so they were ready for four quarters of footy, but six.
The idea there was the Saints would be mentally prepared for the gut-busting efforts required deep in fourth quarters.
That has been important, considering all four of their matches have gone down to the wire.
Find AFL Exchange on Apple Podcasts, Google Podcasts and Spotify.
A camp down in Portsea proved to be pivotal as well. Plenty of fresh faces had arrived at Moorabbin, including Hannebery, Kent, the draftees, Ratten, and fellow assistants Brendon Lade and Jake Batchelor.
Getting away proved a real bonding experience, particularly so after the players endured an arduous beach session, led by tackling coach John Donehue, which has been described as one of the most gruelling those involved have endured.
The Saints put in a gruelling pre-season in and out of the gym. Picture: AFL Photos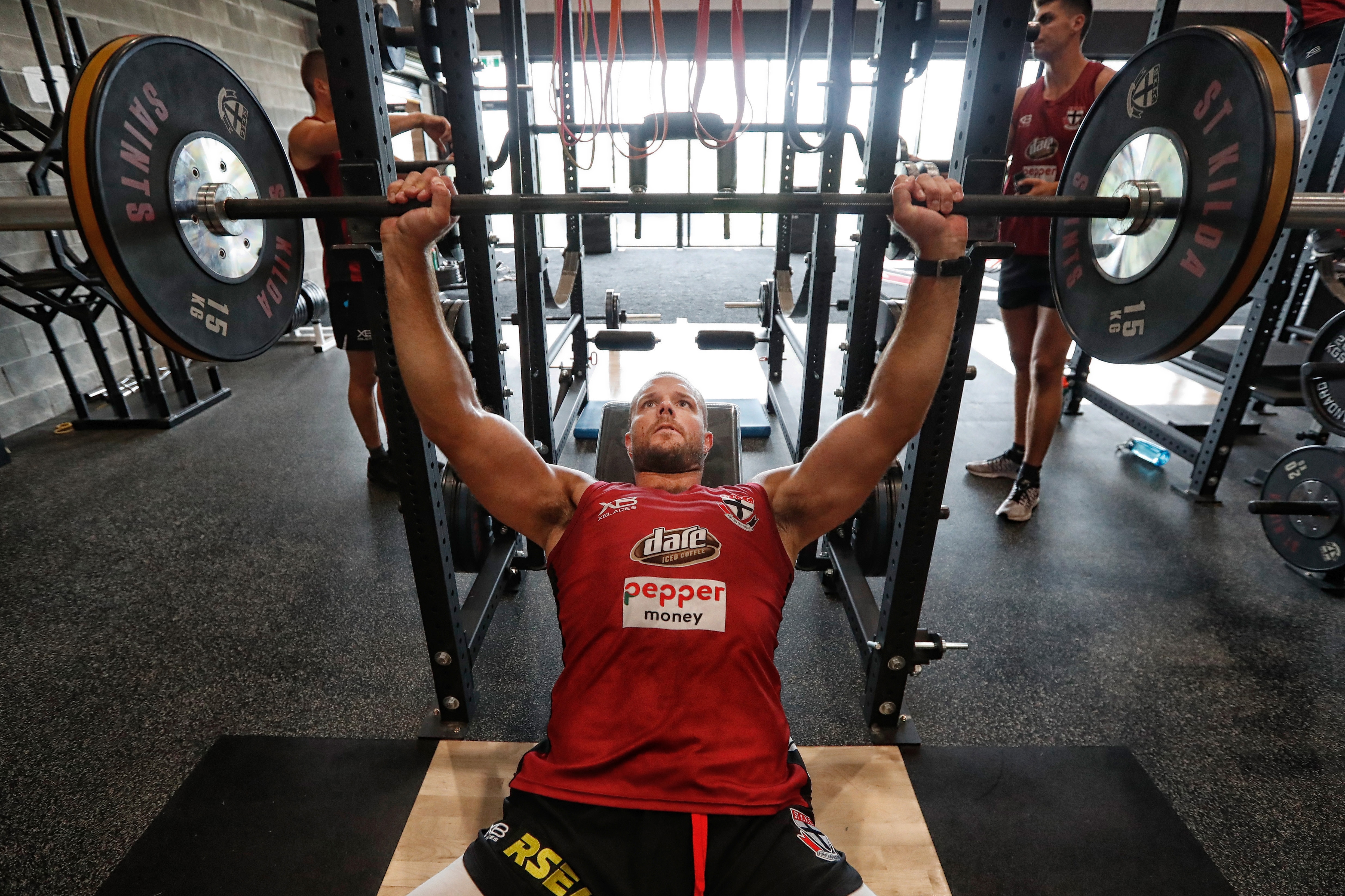 Emerging ruckman Rowan Marshall explained the impact it had on the squad.
"It sounds weird but I think we really jelled as a group after that. We thought, 'We've stuck together through this, we can stick together through anything'," Marshall told AFL.com.au.
"After that camp, we've just really jelled. It's really noticeable now around the club. Everyone's mates, everyone's up and about at the moment.
"It's just the best vibe at the club."
The Ruckman Who Must Not Be Named #AFLSaintsHawks pic.twitter.com/LYNoP8wSy2

— AFL (@AFL) April 14, 2019
There was a key change made off the track too. Faced with criticism he had been too negative, Richardson sought to highlight what his players could do.
The coach worked with communication expert Gary Wyse, who analyses Richardson's interactions with his charges.
He delegated, more often relinquishing the reins to highly regarded assistants Ratten, Lade and Henry Playfair.
Lade's warm character was great for the vibe around the club and helped build a more fun environment that was retained despite miserable news about Carlisle, Roberton and Steven that fell within the span of just over a fortnight.
An effort was made to look at the positive. Each week over the summer, the younger brigade would be called on to highlight what a nominated teammate brought to the side.
Small margins
The competition is incredibly tight this season, and the closeness of St Kilda's matches illustrate that.
Clubs with lowest combined final margins from their first four games of a season
11 pts - GOLD COAST 2019 (1, 3, 5, 2)
19 pts - West Coast 2004 (7, 3, 6, 3)
20 pts - Geelong 1928 (6, 7, 4, 3)
22 pts - ST KILDA 2019 (1, 11, 5, 5)
@GoldCoastSUNS @stkildafc @AFL https://t.co/bI4R9lnDVS

— Swamp (@sirswampthing) April 14, 2019
Which teams they have faced and their circumstances are crucial to consider as well. St Kilda's most recent victory came over Hawthorn, which lost two defenders mid-game (Ben Stratton and James Frawley) before coughing up a 26-point lead, and came into the match with a threadbare midfield after Jaeger O'Meara (left hip corkie) joined Tom Mitchell (broken left leg), Shaun Burgoyne and Liam Shiels (both hamstring) on the injury list.
In round two, Essendon was woeful, and victory the previous week over Gold Coast came against a side that, like St Kilda, is outperforming expectations but was widely predicted to be in the mix for the wooden spoon.
Regardless of the riders on the teams Richardson's men have beaten, the games still need to be won. To be competitive with a bulk of talent out requires everyone else to be producing at a high level, and the coach has been getting that out of his side.